By Kristen Meriwether
ARLINGTON — Following a tough 23-14 loss in the Conference 5A Division II Football Championship game Saturday, Liberty Hill High School Principal Jon Bever walked down the line of Panther players and hung their silver medals around their necks.
Several players were in tears following the hard-fought game. It wasn't the outcome the team had hoped for, but Bever offered his heartfelt congratulations to the young men he leads on campus everyday.
"The boys played incredibly well. It was a great game," Bever told The Independent. "I'm just so proud of the boys, proud of the coaches, proud of our staff, and proud of the support."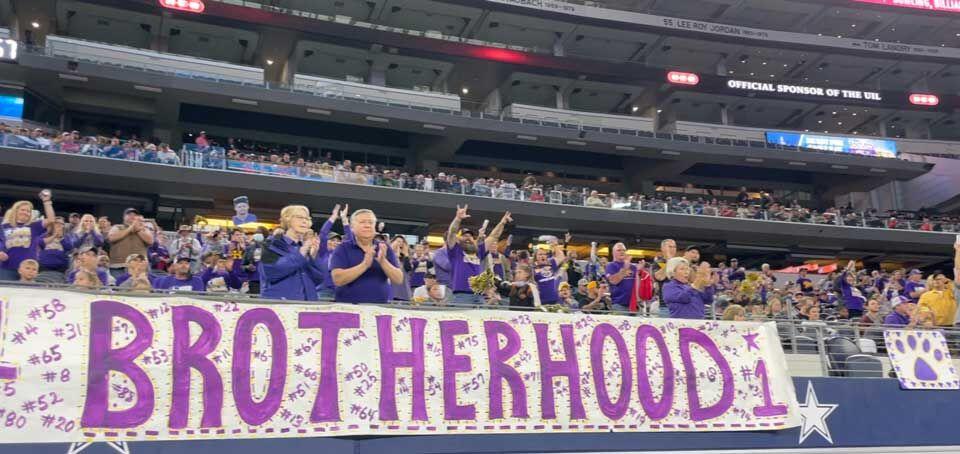 Bever was one of 42,275 in attendance at the game, which was held at AT&T Stadium in Arlington. Despite being over three hours from Liberty Hill, the purple and gold was well represented with a rowdy student section, a thundering band and plenty of noisemakers in the fan section.
"It was probably the biggest fan support we've had all season long," Bever said. "I'm really proud of the fans for coming out and supporting us."
During his post-game press conference, head coach Kent Walker commented on the support the crowd showed his team during the game.
"I looked up at one point and thought, what a community, what a special place for us to be, Liberty Hill," Coach Walker said. "The support these guys got, it's amazing. With the hard work they put in, they also deserve it, in my opinion."
Superintendent Steven Snell handed the second place trophy to the team on the field and let them know how proud he was of their effort.
"I'm so proud of them. When the season starts, you have high goals. Everybody had the goal to win district, make a deep playoff run and get here. So very, very proud of them for reaching their goals," Snell told The Independent. "I'm very, very proud of them, proud of my coaching staff, proud of the kids, the seniors."
Like Bever, Snell also noted how loud the crowd was and appreciated the support.
"The crowd was unbelievable, it was awesome. They were loud, they were excited," Snell said. "This was great for our community, great for our district. We came up a little bit short, but we'll be back."