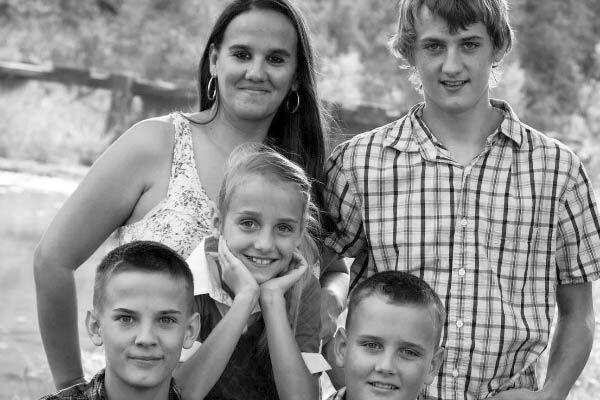 By SHELLY WILKISON and CHRISTINE BOLANOS
Heartbroken by the loss of two children in a car crash last week, the Liberty Hill community is grieving as the family prepares for a funeral service Friday.
The service for 15-year-old Koby and 10-year-old Kirsten Draper will be at 2 p.m. Friday, May 1, at First Baptist Church in Georgetown.
Koby and Kirsten were killed April 22 when the car they were riding in was rear-ended about 8:40 p.m. by a pickup truck driven by John Canche Alvarado of Austin.
Department of Public Safety Trooper Robbie Barrera said Crystal Draper, 37, was attempting to turn left off US Highway 183 into the Saratoga Springs subdivision when Alvarado slammed his Ford F-150 pickup into the Nissan Altima she was driving.
All of Draper's children were in the vehicle. She was transported to Seton Medical Center Williamson where she remained in ICU until Monday. A family spokesperson, uncle Toby Draper, told The Independent at press time Wednesday that her condition is improving and she has been moved into a regular hospital room.
Her son, Kristopher, 13, remains in ICU at Dell Children's Hospital with serious injuries including some brain damage.
Koty, 16, was released from the hospital on Tuesday and is staying with his father and grandparents near the hospital to be close to Kristopher, the uncle said.
Two days after the crash, Alvarado was charged with two counts of intoxication manslaughter and driving with an invalid license. At press time this week, he remained in the Williamson County Jail on a $2 million bond. If convicted, the second degree felony carries a prison sentence of up to 20 years.
Toby Draper said Wednesday that two online fundraising accounts have been created on GoFundMe.com to help the family. One was created by the owner of the hair salon where Crystal is employed. On Wednesday, donations topped $82,000. Draper said the account is intended to help Crystal and the children after the immediate needs are met.
Draper said he created a second account "Donations for the Draper Family" that will be controlled directly by the family to help pay for funeral and medical expenses.
A bank account for the Draper family has also been created at Union State Bank in Liberty Hill for those who prefer to write a check directly to the family or bypass online fundraising.
Toby Draper said the family is requesting organizations and individuals who wish to organize benefits or collect donations on their behalf to contact them by email at thedraperfamily@hotmail.com.
For the past week, school teachers, counselors and principals have been working with students and employees through the grieving process.
Last Thursday, Bill Burden Elementary Princpal Terrie Chambers said teachers and students in the fourth grade where Kirsten was a student were having an especially difficult time with the loss. "We're trying to be cautious," she said.
"We're trying to meet the needs of individuals. We're making sure there is plenty of support here." She said parents of fourth graders who were in the same classes as Kirstin came to school last Thursday to be with the students. Staff members and parents went from class to class to inform the students.
Liberty Hill High School Principal Bobby Mabry said the campus and district are still offering resources to its students, faculty and staff. Koby was a freshman at the high school, and his brother, Koty, is a sophomore.
"Our counseling department is dealing with the grief right now. There are also outside sources we can call in if it gets too overwhelming," he said. "We have a plan in place for students and staff. It's a tragic issue and a cloud over our heads and we feel for our families. We're taking it a day at a time."
Mabry said for the past week, teachers have encouraged students who appear to be distraught or upset to seek out school counselors.
Last Saturday, friends organized a balloon release at the high school. Students wrote messages to the siblings on hundreds of ballons and released them.
Chambers said teachers and staff across all Liberty Hill campuses are grieving the loss. In the family of four children, many teachers and school employees know the family well, and many taught both Kirstin and Koby.
"They're ours," she said, trying to hold back tears. "I know God puts us in places where He needs us. I hope that when I ask for the right words and touch that He will convey that through me. The mother side of me is so broken."
Chambers said it isn't the first time teachers have had to deal with the loss of their students.
"But it is the first time it happened to us when we just hugged her (Kirstin) yesterday (Wednesday)," she said last week.
"You touch them (students) every day, they love and trust you, and losing them is …," she said, unable to find the words to complete her thought.
Chambers described Kirstin as "beautiful and quiet. She was just coming into her own, and overcoming some insecurities — but that's just fourth grade."
There is no left turn center lane on US Highway 183 where Crystal Draper was attempting to make a left turn.
Williamson County Commissioner Cynthia Long said earlier this week that she has contacted Texas Department of Transportation officials and area lawmakers requesting funds to make the roadway safer.
According to DPS records, Alvarado was sentenced to 10 days in jail in 1994 after pleading no contest to assaulting a family member. In 2008, he spent 20 days in jail after pleading no contest to drunk driving charges in Cedar Park. In 2009, he was arrested in Round Rock on drunk driving charges and convicted — served six months in jail and placed on probation for one year.
In 2011, Alvarado was convicted for driving with a suspended license after being stopped by Austin police.
As recent as March 2014, he was charged with misdemeanor assault causing bodily injury. He was jailed for two days.