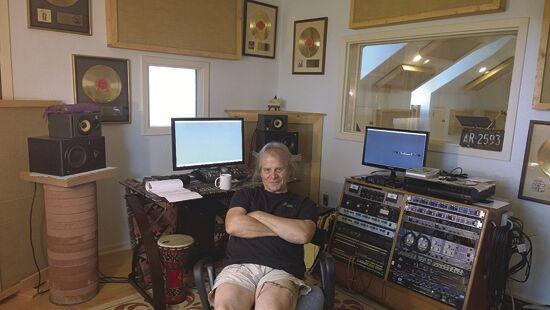 By Christine Bolaños
Merel Bregante has the culture, passion and experience in music that would likely allow him to successfully operate a recording studio wherever he chooses. But he chose County Road 200 in Liberty Hill.
"My wife (musician Sarah Pierce) and I moved to Liberty Hill not really knowing what to expect. We found these beautiful 10 acres and we felt it was right for us," he explained. "It was very much an intuitive thing. Since then, one of the things we've sworn to do is honor this piece of land because it feels special."
His property, like his new hometown, has a rich history, he believes.
"We discovered this little town with an incredible history. Our ground spits out all pieces of stuff. There is barbed wire that hasn't been made since the 1850s. This piece of land is an outstanding piece of Texas history," Bregante said.
The people he and his wife, Sarah, have come across since moving to town in 2014 are just as special as the land they live on, he adds.
"There are people who have come here from Austin that have never been up here before and are absolutely blown away," he said.
He isn't necessarily on a mission to affect the city's economy, but he vows to always keep the interests of Liberty Hill in mind.
Liberty Hill is dear to the couple in part because it is vastly different from prior places they have resided. Their passion and gift for music, however, travels wherever they go.
Bregante's story begins in San Pedro, California, where he was raised by his Italian fisherman father and his small town Montana mother who operated a steam press. Though neither had background in music, they loved listening to it. So from an early age, Bregante was exposed to Italian opera, the Louisiana Hayride radio program and gospel.
Bregante's love for listening to music quickly evolved to wanting to play it. So he tried his hand at the violin but that didn't last. Then he tried the trumpet, and as he puts it, that didn't last "terribly long."
But then he began playing the euphonium and continued for several years.
"I think this is kind of silly, but I was considered a prodigy on the euphonium," he said. "By the time I reached middle school I realized music was truly my life."
He was introduced to The Beatles while in college where he started having dreams about being drummer Ringo Starr.
Naturally, he took on the drums. By the summer of 1967, he had a top 20 single and played at the Hollywood Bowl with his band Sunshine Company out of San Pedro, Calif.
While playing open microphone at a bar in Long Beach, they were approached by William McEuen who said he could get them a record deal. The boys didn't think much of it assuming it was more of a joke than anything. Shortly after, though, they were invited to a recording studio in Hollywood.
"He ended up inviting us to a particular address on Hollywood Boulevard and it was Liberty Records," Bregante recalled. "By the time school was over, we were touring all over the U.S. and opening for The Doors" and other artists.
The boys released three successful albums from 1966 to 1969, but the band broke up amid pressure from the label and within the band.
But Bregante kept at it.
"My academics are marine biology, but for me I don't think there was any option (other than music)," he shared.
After the Sunshine Company disintegrated, he began working for Johnny Mercer and began to immerse himself in the behind-the-scenes part of making music happen: the engineering.
Then he began playing with Gregg Allman before the creation of the Allman Brothers Band. According to Bregante, the group broke up due to internal politics within the record label.
"I got fed up with L.A. so I moved outside Sacramento and worked on a horse ranch. I took riding lessons for years and I had sort of fallen in love with that animal," Bregante shared.
Life pulled him back to music when he got a call from Jim Messina who asked him to audition for the Loggins and Messina band, which culminated into several recognitions including a Grammy nomination.
When that was over, Bregante performed with Chris Hillman, one of the original members of The Byrds and The Flying Burrito Brothers.
He later joined the Nitty Gritty Dirt Band and recorded two albums with them. He next joined David Soul from "Starsky and Hutch" TV fame, then Dan Fogelberg; he did a stint with Gary Morris and a stint with Pure Prairie League. He later played with John McCallum who was one of the founding members of the Nitty Gritty Dirt Band.
Bregante has been proudly playing alongside his wife for the last 25 years.
During all that time, Bregante had called several places in California as well as Nashville, Tenn., Phoenix, Ariz., and Colorado home.
He became serious about music engineering and producing music while in Colorado. In Phoenix, he managed a recording studio for 10 years and met his wife. They moved to Santa Barbara Calif., in 1991 where Bregante engineered and produced music while also playing with his wife.
The couple moved to Austin in 1994 and Cribworks Digital Audio was born in 1995. The studio Bregante manages in Liberty Hill still carries that name. They lived in Austin for 20 years before settling in Liberty Hill.
"In August of 2014, I happily moved to Liberty Hill and built this studio that you're sitting in. My first session was in October of last year and I've been booked ever since," Bregante said.
The full-service studio was built to ensure the best quality music and was built by Rick Gavin of L.H. Handyman Services.
The quality acoustics within the studio are the product of Bregante's collaboration with Austin-based mastering engineer Nick Landis, who calls the studio "world class."
Bregante specializes in recording, digital editing, mixing and re-mixing. He does "old school" R&B, rock, country, acoustic and spoken word. He doesn't do rap because he does not have the experience.
He does mixing for artists as far away as Italy, Washington, northern Virginia and soon, one from Nashville.
Bregante describes his studio style as "old school" with microphones and warm bodies.
To learn more about Bregante and his studio, visit www.cribworksdigitalaudio.com.