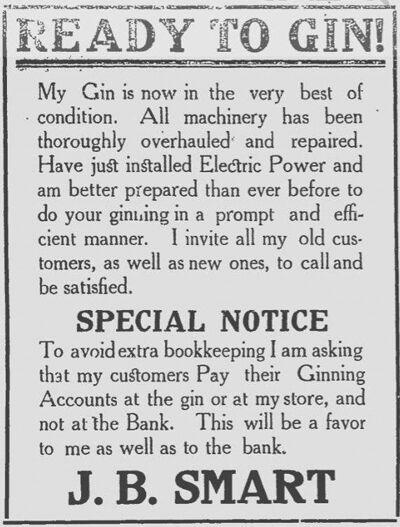 By JAMES WEAR
A tragic fire that occurred Saturday evening leads me to invite readers for a little drive over to Florence this week. Many of our older readers (those who were here back in the day when Liberty Hill and Florence schools enjoyed a healthy rivalry, particularly in football) will recall what was known as the "cotton gin," located on the south side of FM 970 as one enters Florence.
The building is no more as flames spread quickly and despite efforts by Florence and at least two other fire departments all that remains is twisted corrugated metal in the ashes. Smoke from the fire was seen from several miles away. Two families were living in the gin, which some years back had been converted into a residential dwelling. No injuries were reported, but word has it both families lost everything but the clothes on their backs.
Word of the fire spread quickly on social media, and prompted many memories as longtime residents tried to recall how many years the cotton gin had been there. I turned to my copy of One Hundred Years in Florence, Texas by the late Mrs. R.S. Caskey. Mrs. Caskey's book, published back in 1963, did not disclose when the gin was built, but did note at various times Florence had three gins in operation.
"Gins were operated by steam power," wrote Mrs. Caskey. "Power was produced by steam which was created by large boilers filled with water heated by cord wood…many farmers spent the summer hauling wood to the gin. There were no trucks; wood was hauled in wagons drawn by horses, mules or oxen."
This changed in late 1920s, wrote Mrs. Caskey, when Florence gins converted to electricity to power their operations. Longtime Andice resident Darrell Lewis, who attended school in Florence, turned to the digital archives of the Florence Vidette newspaper available through the Florence public library's website, and posted several images from the newspaper on social media Saturday evening.
It appeared, according to the posts, the gin that burned Saturday at one time belonged to a J.B. Smart. The name triggered a memory on my part, and so I looked into it and found that J.B. was the son of Dr. William Smart, Jr. whose brother, Sam Houston Smart, was my great-grandfather on my father's side of the family. It is believed the Smart gin was built sometime around 1903.
One of Darrell's posts featured a news item published in the May 3, 1928 issue of the Vidette with the article noting "J.B. Smart has recently contracted with the TP&L Co., for electric power with which he will operate his gin during the coming season, and has purchased the latest and most modern equipment which will enable him to render excellent service to his customers…"
Another Florence gin belonged to W.R. Davis. A brief article appearing in the Aug. 30, 1928 issue of the Vidette included an observation made by the writer, after visiting both the Smart and Davis' gins, "…these gins have installed electric power and modern machinery and you can hear the farmers cuss their mules, and ginning looks to easy."
Going back a bit farther, an ad published in the Aug. 24, 1916 issue of the Vidette has the Hair and Shaw Gin claiming "having overhauled our entire gin plant and put it in First-Class condition, we are better prepared than ever to give satisfaction with gin service and solicit your patronage." In that same issue, G.L. Smith had an ad that noted, "I now have my New Gin Machinery installed and have everything ready to gin your Cotton."
In the same ad, Smith pointed out "In addition to a New Gin at Andice, under the management of A.E. Caskey, and a square bale gin in Florence, I have installed a New Round Bale Press here, and you will be able to get several points above the square bale price for your cotton, if put up in Round bales."
The Oct. 1, 1936 issue of the Vidette had two separate stories regarding two gin fires…both of which occurred within a day of each other. One occurred in Florence at the Wales Wilson gin with an article noting, "Everybody made a mad rush for the gin, but before the crowd arrived the fire was under control and little damage had been done."
In another article, the Vidette reported, "What came near being a bad fire occurred at the Andice gin last Tuesday. The fire damaged the gin several hundred dollars but was finally put out. The gin was put out of commission for several days." The article did not identify the owner of the gin.
An article published in the July 25, 1946 issue of the Vidette reported that T.M. Williams bought out the W.R. Davis gin.
I have been unable to determine who the current owner of what once was the Smart gin, and while I do not recall seeing it in operation, some report the gin was running as late as the 1970s. In years since, it was converted into a gift shop before becoming a residential dwelling.