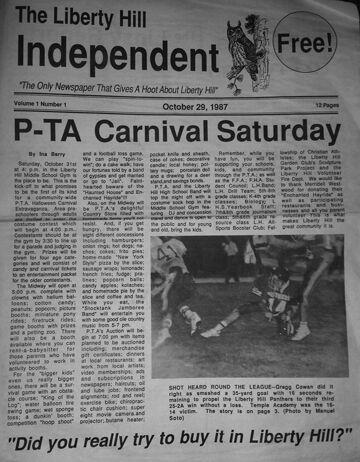 By JAMES WEAR
Funny how one can know something, but when it appears in black and white at the top of the page; well, then it can almost have a jarring effect.
Such was the case last week when I picked up my copy of The Independent and there it was: Vol. 30, No. 1. Wow, time does indeed fly, and with it, change unfolds.
Of course, there is a bit of mystery surrounding the volume number and issue number and, like in the case of Amelia Earhart, I suspect it will never be solved. How in the world, if The Independent made its debut on Oct. 29, 1987, did Vol. 30, No. 1 hit the stands on Nov. 24, 2016? Is it due to the holiday schedule the newspaper has taken over the years, skipping the weeks of Independence Day and Christmas Day? Is it due to a previous editor maybe staying out a bit late and failing to change the numbers? If so, like any responsible former editor, I'll plead the Fifth and take the chance that nobody really cares.
Now, I wasn't with The Independent when it launched in 1987. I joined the staff a few months later as a part-time writer/photographer, and looking back, the newspaper itself has changed over the years.
Originally printed in tabloid format, the primary focus of the paper was the school district, perhaps because some three decades ago, the school district was just about the only local governmental entity there was to cover.
Louine Noble had just been hired as superintendent and the new high school (where Liberty Hill Junior High is located nowadays) still smelled of fresh paint. Perhaps the biggest news in The Independent's early days revolved around the success of the Panther basketball team and its march to a second consecutive appearance in the state championship.
The newspaper was composed of a series of regular features on its inside pages. There was "The Linzy Report" on Page 2, in which founding publisher Jim Linzy opined on Liberty Hill and the world at large; and "Hackwriter's Dilemma" on Page 4, in which yours truly shared his take on Liberty Hill and often provided glimpses of the trials and tribulations of a first-year husband. It was 28 years ago this week Paula and I exchanged vows in front of her mother's cafe in downtown Liberty Hill, an event which we revisited previously in this column.
There were also a couple of other regular features that appeared weekly: "LHI Hilltopper", in which we focused on a member of the community who was making a difference in their own particular way; and "LHI Report Card", in which we'd interview members of the Liberty Hill faculty. There were also a couple of regular advertising features: "Independent Friends", a collection of business card sized ads on a page with one of the advertisers featured on a rotating basis; and another collection of advertisers on another page with the center space devoted to featuring an outstanding Liberty Hill athlete or team.
The newspaper has evolved over the years. Today it's printed in broadsheet format and there's no shortage of governmental entities to cover. Consider this: when The Independent began publishing another 10 years would pass before Liberty Hill incorporated; and many services, including law enforcement, were provided by Williamson County. There was, of course, a local volunteer fire department, but the creation of an emergency services district was still many years away.
Back then, one didn't dial 9-1-1 to report an emergency. Instead, there was a local number to call and a collection of what were known as fire phones were located in houses in town. Fire department members rotated responsibility as to who would "cover" the phone to make sure emergency calls were promptly answered and then, in turn, dispatch volunteers over fire radios.
Speaking of phones, back when this newspaper started, calling Austin or Cedar Park or Leander was a long distance call; and it was through the efforts of a couple of Liberty Hill Chamber of Commerce members that the phone company began offering 515 numbers to those willing to pay a few extra bucks for the convenience of having extended service.
Speaking of the Chamber, there was no chamber of commerce when The Independent began; and it should be pointed out the newspaper took the lead in promoting and forming the organization. The paper also played a role in helping the Liberty Hill Lions Club get on its feet; and some years later, promoted and helped with the creation of the Liberty Hill Development Foundation, which led eventually to the building of Lions Foundation Park.
Back in 1987, Williamson County Pct. 2 offices were still based in Liberty Hill and Wes Foust, who resided near Gabriel Mills, served as commissioner. Foust would eventually be unseated by a political newcomer by the name of Greg Boatright, now Liberty Hill's City Administrator.
The post office was still located downtown in a tiny brick building across the road from Quick Service Garage. Thirty years ago, it was not uncommon for children to run down to Allman's Grocery and charge a candy bar and a Coke on their parents' account. There wasn't even a four-way stop sign at Loop 332 and RR 1869…one can only imagine what kind of nightmare situations we'd have nowadays if the intersection had remained as it was back then…anyone in the mood for a game of "chicken?"
Veterans Park had not yet been redeveloped following the move of the sculptures from the 1976 symposium and sometimes the grass grew rather high. A series of tin sheds, used a few years back for Market Days, were beginning to fall into disrepair and would eventually be torn down after the VFW built a new post home on the grounds in the early 1990s.
Yes, much has changed since this newspaper began; and thankfully The Independent has been there to chronicle those events that shaped the community.