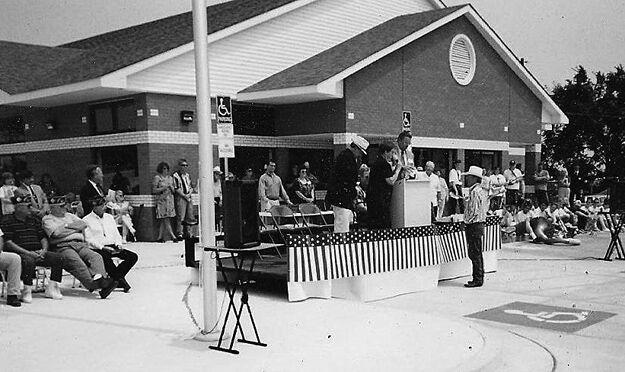 By JAMES WEAR
If you're relatively new to Liberty Hill, chances are you have driven down Carl Shipp Drive on your way to the post office and wondered, "Just who was Carl Shipp?"
Appropriately enough, Shipp was a longtime postmaster for Liberty Hill, serving in that position for some 30 years before retiring in 1964.
Shipp wasn't originally from Liberty Hill. He was born in Lorena in 1895 where he met his future wife, Jonnie Connell. Shipp went off to serve in the military and upon returning, discovered Jonnie was teaching at Texas Christian University. Shipp proposed, and Jonnie accepted, leaving her position at the college mid-year to marry him. The newlyweds lived in Lorena and Waco for a time before moving to Liberty Hill in 1925 where Shipp worked for his father-in-law for the next nine years.
He was appointed postmaster in December 1934 and continued in that position for the next three decades. He was active in community affairs, serving on the school board for many years in addition to being a member of the Masonic Lodge, American Legion and Red Cross, and was among the charter members of the Liberty Hill Volunteer Fire Department.
In a profile that appeared in a March 1977 issue of The Libertarian, Shipp was quoted as saying, "Things have changed. When we moved here people were slow and deliberate…They never got in a rush. But you can't just sit down, it'll run off and leave you. I like it! I like to see progress."
According to the profile, Shipp remained active in his retirement years and was often spotted driving through Liberty Hill on a motorcycle he had purchased for his grandson.
Shipp passed away in September of 1979 and Jonnie followed him a few months later. The couple is buried at Liberty Hill Cemetery.
…..
Thanksgiving is just around the corner and Liberty Hill residents will join millions across the country in celebrating the holiday.
Back in 1976, a few Liberty Hill students were asked to write about what Thanksgiving meant to them and some of the students had their answers read at a Liberty Hill PTA meeting and published in the local newspaper as well.
Among those students was Neal Landry, a fifth grader at the time, who wrote, "Thanksgiving is a time of fellowship when people gather together to have fun and worship God. Also Thanksgiving is a time to be thankful and praise the Lord for what he has done. Thanksgiving should not be sorrowful. Thanksgiving is not just a time to have fun, it is a time to be thankful."
Bill Cousins, who was in the sixth grade at the time, wrote, "Thanksgiving is a time for loveing{sic} not fighting. And it is a time for eating and having fun. It is a time to be happy not sad. I wish everyone could feel the way I do. It is a time to get with a freind{sic} and have a good time."
And Kim Macon, also a sixth grader at the time, noted "…and our fathers are in the living room watching the football games and screaming to the players on the TV, 'Run! Run!' while our mothers are yelling, 'Please be quiet' and our fathers are saving 'yes dear…Run! Run!' That's what Thanksgiving means to me."